Investing in the fields of Science and Digital Technology is necessary to create the professions of the future. Demographic changes, the aging population, the general progress of medicine, the search for security, the complexity of processes, the development of new molecules and the technological evolutions within medicine, have increased the demands in the Health domain. In terms of both therapeutic research and organization of the care system and individual needs, expectations and demands are high.
Presentation of the Master
Open house: Saturday, February 11th, 2023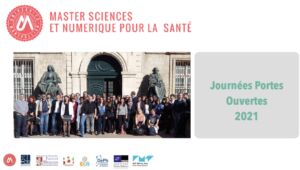 ---
APPLICATION
Submit your application (from 18 April 2021):
Please also contact the pedagogical manager (s) of the course you are interested in for the purpose of presenting yourself and completing your file if necessary.
---
1 MASTER – 3 SPECIALTIES
Engineering Devices for Health – IDS

This specialty aims to train students in the theoretical and practical master's degree in medical robotics, signal processing, sensors and their measurement chain. These acquired skills find their applications in health fields.

Head of the Specialty:
Inquiry – Specialty IDS:
Biomedical Physics – PhyMed

Training offering multidisciplinary knowledge in the field of physics applied to health: from the physics of biological systems to the physics of ionizing radiation. It also delivers strong training in the physical foundations of medical imaging.

Inquiry – Specialty PhyMed:
Engineering Complement – IC

This course aims to offer the possibility to Master students to follow an engineering training in a school of the IMT network.
A DOUBLE-DIPLOMA
A bi-diplomating training
Building on the complementarity of engineering courses with the specialties of the different courses of the master, it is accessible as a double degree Master and Engineer. The selected students follow courses at the end of which the students of the Institut Mines-Télécom and its partner institutions have the opportunity to obtain the Master of Science and Numerology for Health from the University of Montpellier in addition to their degree in engineering, while master's students have the opportunity to obtain an engineering degree from one of the schools of the Institute Mines-Telecom in addition to their master.
The ICT & Health Montpellier training offer is aimed at students from the world of computer science, electronics and automation, as well as physics, biology, medicine, dentistry, physics and pharmacy. Since 2010, more than 200 professionals have been trained, nearly 20% of them through vocational or in-house training. Opportunities are mainly found in technology companies, consulting and IT service companies and health care providers: hospitals, healthcare providers, insurance and prevention actors.
Contact: Pr. Gérard Dray